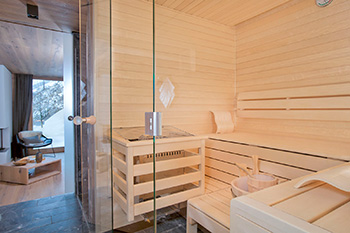 At this page you will find a brief explanation about the Finnish- and Herb Sauna suited at Chalet Eisenrose.
If you are planning using the sauna it's best if you can bring a large bathing towel and flip-flops with you. Do you have enough baggage space it's nice to bring a bathrobe too. Included with your bed linen there are two towels per person; one large and one smaller piece, however, these you probably use in your bathroom. For every adult Gast you will receive a Bathrobe with your bed linnen. A sauna towel can be rented at the frontdesk.
The sauna is equipped wit a Fluorescent Lighting, this you can lit by choice. The sauna is also equipped with a colour light, this you can lit with the remote control. The sauna can be used with a low humidity (Finnish) as with a high humidity (Herbs). As the humidity is low the temperature is high and you pour water on the sauna stones with the wooden spoon yourself. In case you will use the Herb sauna the temperature will be set lower and the humidity is higher.
With the sauna you will find a detailed manual.